Welcome to B&B La Pace in Marche!
We look forward to welcoming you to our idyllic and typical stone house with 3 stylishly furnished guest rooms in the middle of the Montefeltro nature reserve on the Marche / Tuscany border.
Embedded in the midst of untouched nature, far from the noise and hectic, in absolute tranquility and beauty you can let your soul dangle and find inner peace. The closeness to nature gives harmony and lets worries and everyday problems move far away. An ideal place for couples and families who want to rediscover themselves and their own naturalness.
Lavender, gorse, a colorful variety of plants and fragrant herbs surround the property and give off their gentle scent. Those who like to be active can explore numerous hiking trails right nearby. Cycling and climbing tours as well as horse riding are possible in the immediate vicinity.
We are looking forward to your visit!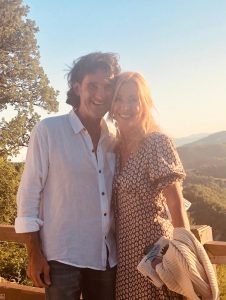 So many reasons to vacation with us...
Lovingly and romantically furnished rooms
The rooms are furnished in a typical Tuscan style. Wooden beams on the ceilings and stone walls combined with a Provencal-rural touch create a romantic atmosphere. In every room there are plates and cutlery, refrigerator, TV and WIFI and a little basic equipment to be able to cater for yourself if necessary. The rooms can also be booked as family rooms. A wonderful fragrance will welcome you!
We were here for the second time and will definitely be back! Hardly any other place exudes so much peace and being in nature as La Pace. The hosts are lovely, the nature is fantastic. If you are looking for peace and seek to relax body and mind, this is the place for you.
The day starts comfortably with the good, rich breakfast, almost everything organic or from home-grown cultivation and at the beautifully laid table on the terrace. It is great that there is now a beautiful, large pool with a fantastic view of the green hills.
The beautiful house is a bit out of the way. Shops and good restaurants can be reached in about 20-30 minutes, and the room also had cooking facilities and a refrigerator.
We relaxed and enjoyed every day there!
We spent a weekend in this beautiful property, surrounded by green scenery. Absolute peace... total relaxation. Eleonora and Josef are two wonderful hosts... a big thank you for their attention to the customer and for their availability and friendliness. P.S. Breakfast on the veranda with jams and fresh juices is the best!!!
In the rooms you will find the products they produce (from essential oils for aromatherapy to soaps, creams, bubble baths, etc. all natural and organic). What can I say ... it's best to go right away!!!!
The landscape of "La Pace" is one of its kind, it is breathtaking and at the same time calm. The atmosphere here is relaxed because the hosts are so friendly and attentive.
The breakfast is all organic, vegetarian and of high quality and above all not excessive. We really appreciated this.
The cats and Jack, the German shepherd, have a way of gently pushing you to leave it out, relax and enjoy the beauties of life and the Italian Marche.
I hope we will come back here someday, until then we can warmly recommend "La Pace" to other travelers. Thank you for the wonderful week!
Not sure where to start, the accommodation, the view and the room were great. The hosts were wonderful. The garden was nice and I think it got even better because Eleanora worked on it.
Super attentive owner, nothing is too much to ask - delicious fresh breakfast with a large selection of bread and homemade jam - fantastic location; Bay windows if you like peace and quiet and a beautiful view - spacious room with a small kitchenette - beautifully located swimming pool with deck chairs around the corner - small, shady terraces here and there - dog and four cats are very well looked after and only come if you call them
- High speed internet access
- good bed and pillows
- small bathroom with large shower
A rich breakfast suitable for all tastes, Eleonora is always present to fulfill wishes.
If you ask for a miracle ... just be patient, they will organize it too!!!!
Do not be put off by the road that takes you to the b&b, on arrival you will find a little corner of paradise where you can regenerate.
The complex is in the perfect country house style, very clean and furnished with attention to detail.
But what remains here after a vacation is the feeling of deep calm that the smiles of Eleonora and Josef convey, which make the vacation lively.
Check availability now and book at the best price – including free welcome present!